The 2020 global pandemic stopped the whole world in its tracks. Last year tested us in ways never imagined—mentally, physically and spiritually. For the breaking dance community, which thrives on face-to-face interaction and competition, it posed extraordinary challenges. All live events suddenly came to a halt and dancers whose main income comes from art and entertainment found themselves in a difficult position of figuring out a new way to survive.
When the lockdown announcement came, B-boys JFunky (aka Jonathan Mayuga) and Rome Lethal (aka Jerome Modelo) were at Mayuga's brother gym in Chicago. As all sources of his income abruptly stopped, Mayuga who was permanently living in Las Vegas working as a performer and tour guide had to move back home. After completing a successful contract at the Universal Studios Hollywood with the Jabbawockeez (a hip hop dance crew who won the first season of America's Best Dance Crew in 2008), he was about to go to China to do other shows. However, everything shut down and touring overseas was not an option.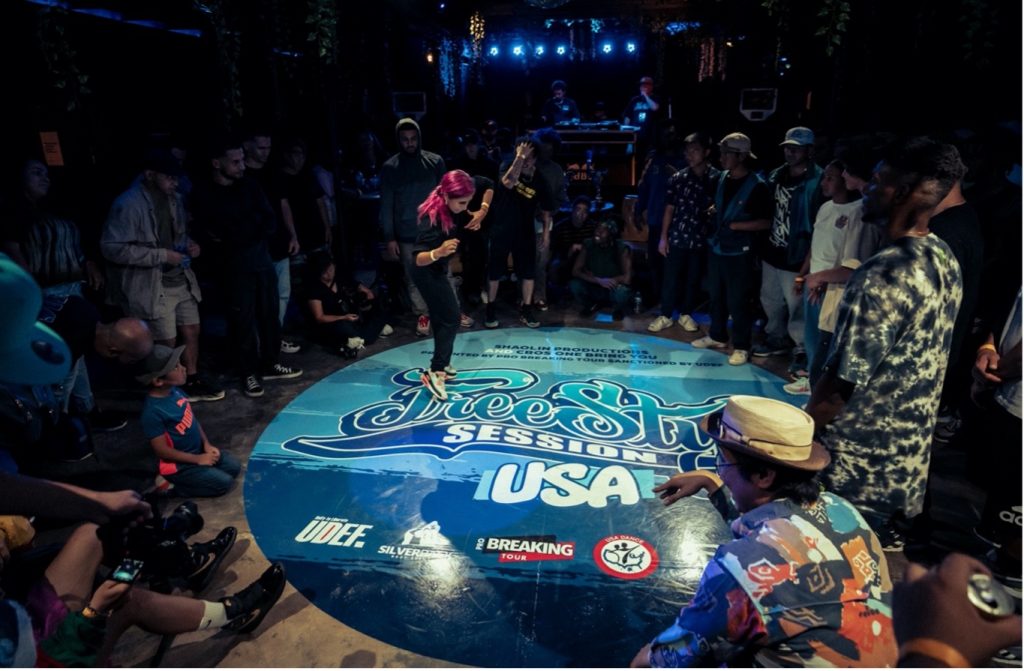 A heart of an event—the cypher— a circle spontaneously formed by dancers who enter it one by one. Cypher can form anywhere with no restriction on age, skills or entry numbers. It's where dancers show and test their skills outside of the structured competition. It's where traditionally the dancer's reputation is first built. Although cyphers can turn into call-out battles, their main function is freestyle dancing. Cypher is code for freedom of expression.
Photo credit: @unlucky.rabbits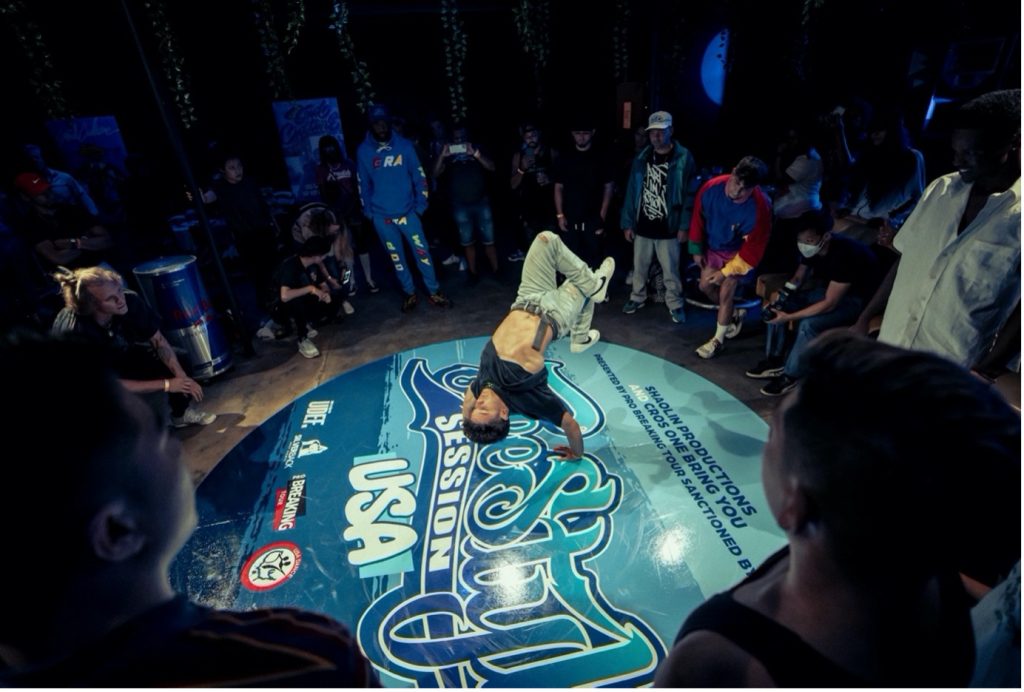 Inside the cypher. Bird's eye view. Face to face interaction and feeding off each other's energy are important factors for dancers. In-person training, cyphering and competition push the breaking culture forward. One of the pandemic challenges was the inability to meet up. As Rome Lethal put it: "The world as we knew it disappeared. Luckily, I had my best friends with me and a safe space (private gym) to continue to practice and train. We were lucky."
Photo credit: @unlucky.rabbits
Given the new unprecedented reality, Rome Lethal and JFunky made the best out of their time. They met at the 'Cheer Destiny' tumbling gym in Chicago's Albany Park neighborhood every day. "Luckily, it wasn't too far from my house. At that point, we were just trying to stay healthy, sane and keep up with our breaking because we didn't know what the future holds. Mentally it was rough for all of us in terms of financial problems, careers and where we were at in breaking 'cause we didn't know what was gonna happen in the future. We trained so hard and were questioning what was the point of all of it. But luckily we had a safe space and each other", explains Rome Lethal.
Practicing every day in a space with mats and other gym equipment turned out to be a huge advantage. "It actually increased my confidence because I was training these high level moves without hurting myself. When all battles started happening online, I qualified for the online Red Bull BC One e-battle top 64 (out of over a thousand international submissions) and that made me feel like I was doing something with my breaking again. Then, I qualified for the first USA Breakin' e-battle online. That was an interesting experience because it was my first time battling live online but with no audience. It was literally a battle within myself. It's a challenge because there is no energy to feed off. But it's also good because it makes you tap into yourself", reflects JFunky.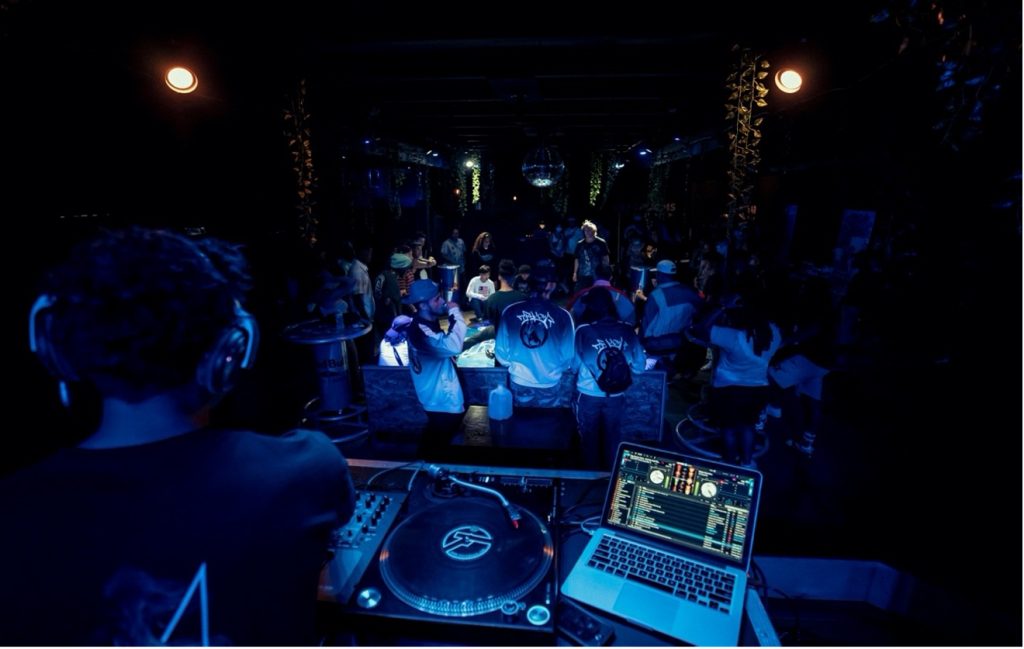 The heartbeat of a battle is music provided live by a DJ. The DJ sets the tone and mood emoted by dancers. DJ Felix on the one and twos (the turntables) overlooking the cypher.
Photo credit: @unlucky.rabbits
Both Rome Lethal and JFunky qualified for another event in Texas by submitting a clip. Calling themselves perfectionists, they wanted the videos to be flawless. Yet every time they looked, they wanted to make it even better. That meant dozens of hours practicing and repeating the routine until they were satisfied with the finished product. Video submission format equals many uncertainties for the dancers. It means they can be competing against the whole world without any idea who is entering and qualifying. It's battling others and simultaneously battling their own mind in the process of a constant self-improvement. But as Rome Lethal puts it: "Although it's hard, you wanna keep on edge and be prepared for when live events start to come. You wanna keep repping. If it's virtual, that's what it is. If it's the only way to be active, so be it."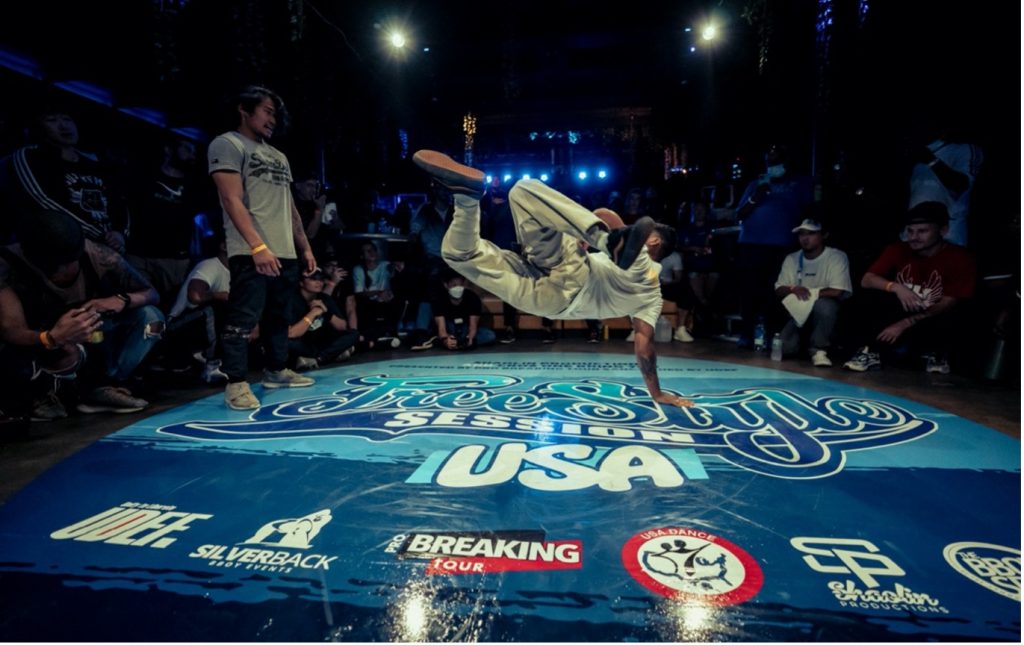 Keeping eyes on the opponent: Rome Lethal (left) in the preliminary battle.
Photo credit: @unlucky.rabbits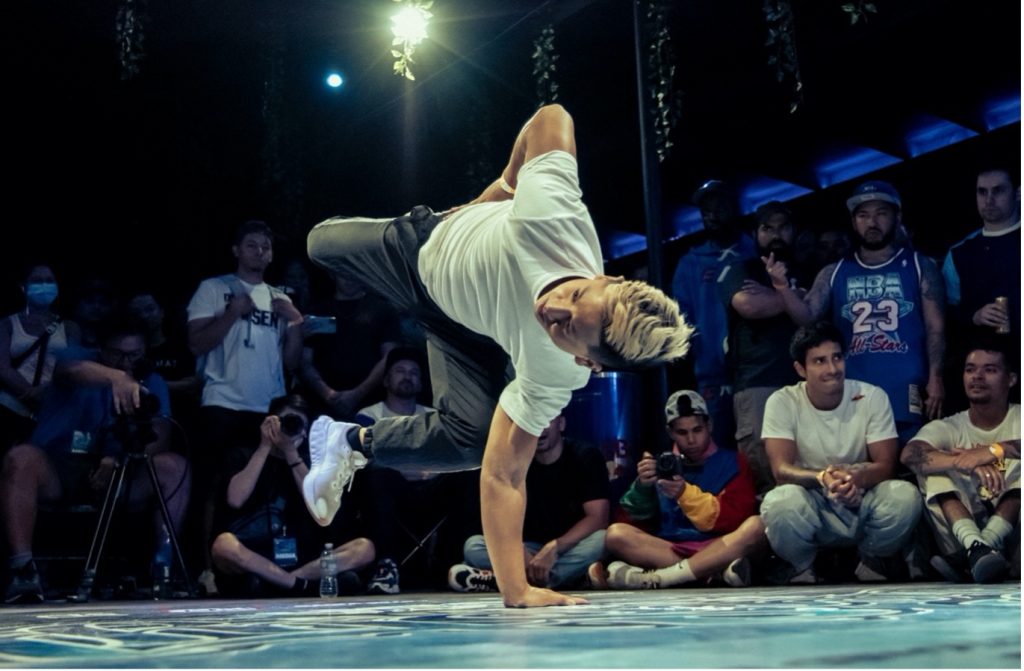 Top 16 battle: JFunky hitting a freeze at the USA Dance National Breaking Championships in Orlando, Florida.
Photo credit: @unlucky.rabbits
The first live event Mayuga and Modelo attended in person was the USA Breakin' Texas qualifier which took place in March 2020 when the country was still largely shut down. It was understandably a very limited capacity battle with few spectators and a required negative Covid test result. Because Rome Lethal's opponent didn't present such result, the brackets were rearranged and all of a sudden Rome had to battle against JFunky—someone he has been used to having on his team. So even though it was good to travel and attend in person competition again, the format was more structured and there was even more pressure to compete at such a high caliber event ranking dancers for the USA Breakin' roster.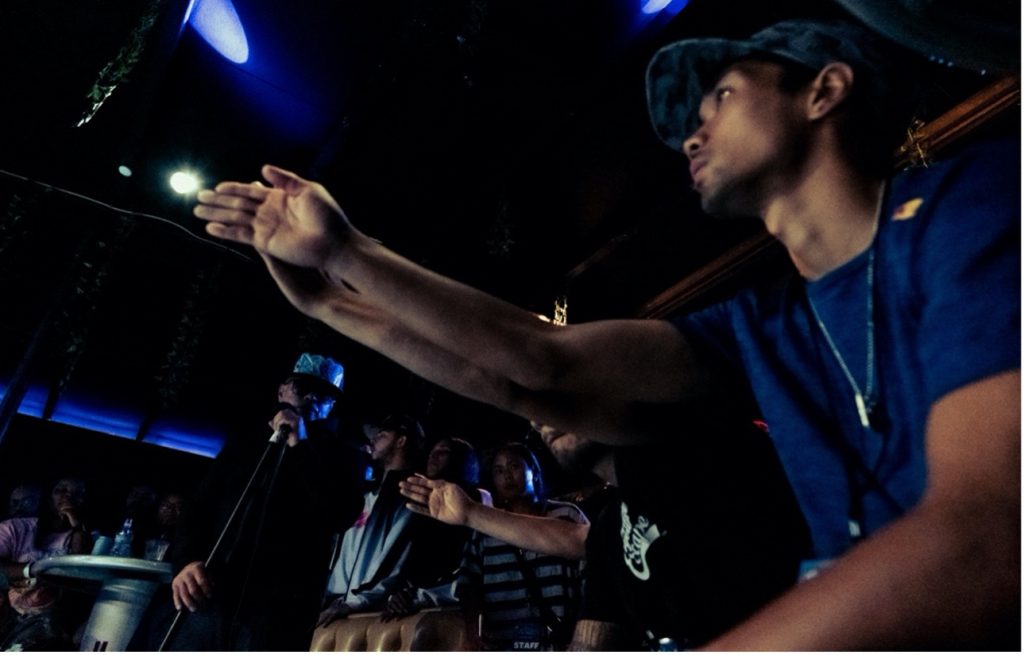 Judges point to the winner.
Photo credit: @unlucky.rabbits
The Freestyle Session in Orlando, Florida on July 10th —the USA Dance National Breaking Championships and WDSF World Breaking Championship qualifier felt more like a jam breakers knew prior to the pandemic; there was a cypher space and lots of people from the community—both organizers and competitors. Rome Lethal and JFunky cyphered and competed against the best, including top rated sponsored athletes B-boys and B-girls. Although they did not win in Orlando, their passion, determination, drive, commitment and skills are undeniable. It is people like them that make our cities proud and provide physical proof that no challenge is too big for a dedicated heart.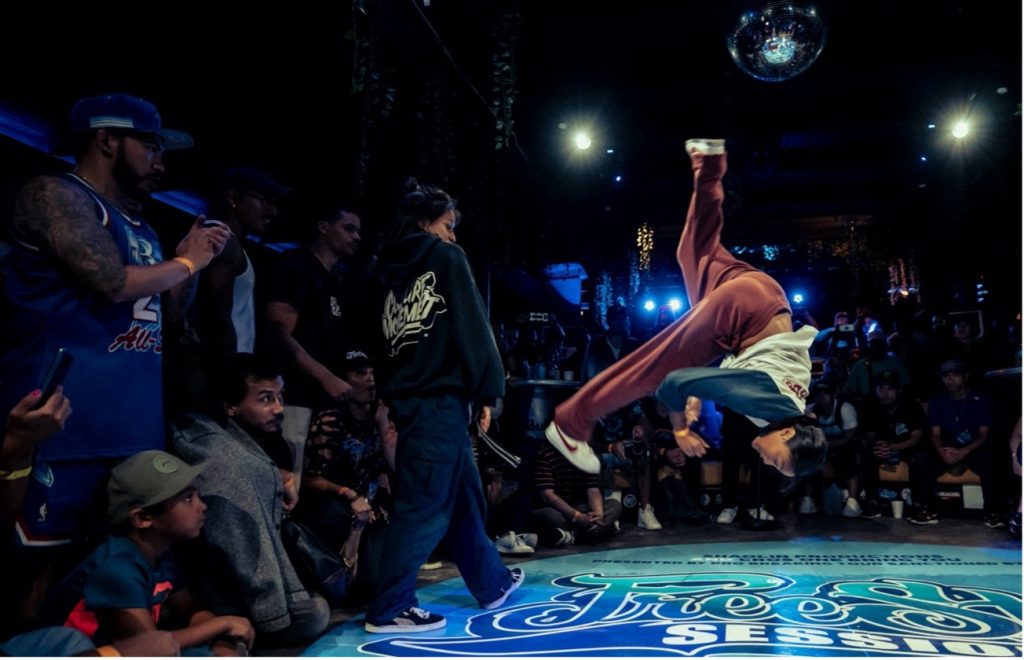 B-girl Logistx midair in the final round against Isis.
Photo credit: @unlucky.rabbits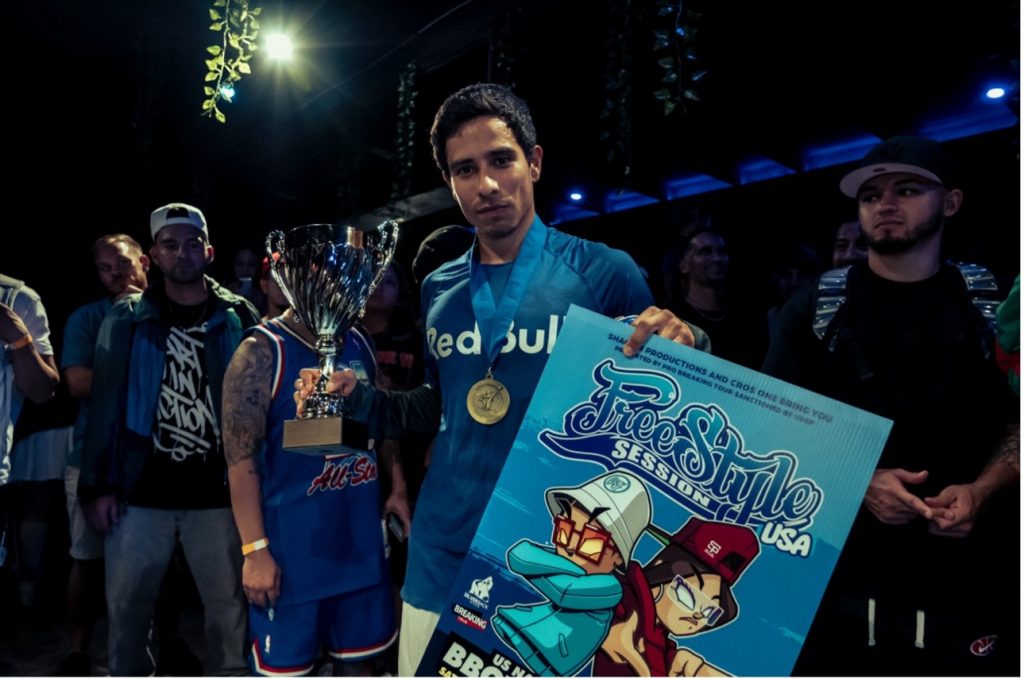 B-boy Victor – a Red Bull sponsored athlete takes the win in the B-boy category and will represent the U.S. at the WDSF World Breaking Championship competition in Nanjing, China in October.
Photo credit: @unlucky.rabbits
"Losing is a part of the game. We gotta tell ourselves that we went and represented. Not a lot of people are traveling right now. It's still hard. Winning and losing are part of the game and you gotta keep your mentality straight. Gotta know your weaknesses and come back from them", concludes Rome Lethal in the spirit of a true athlete.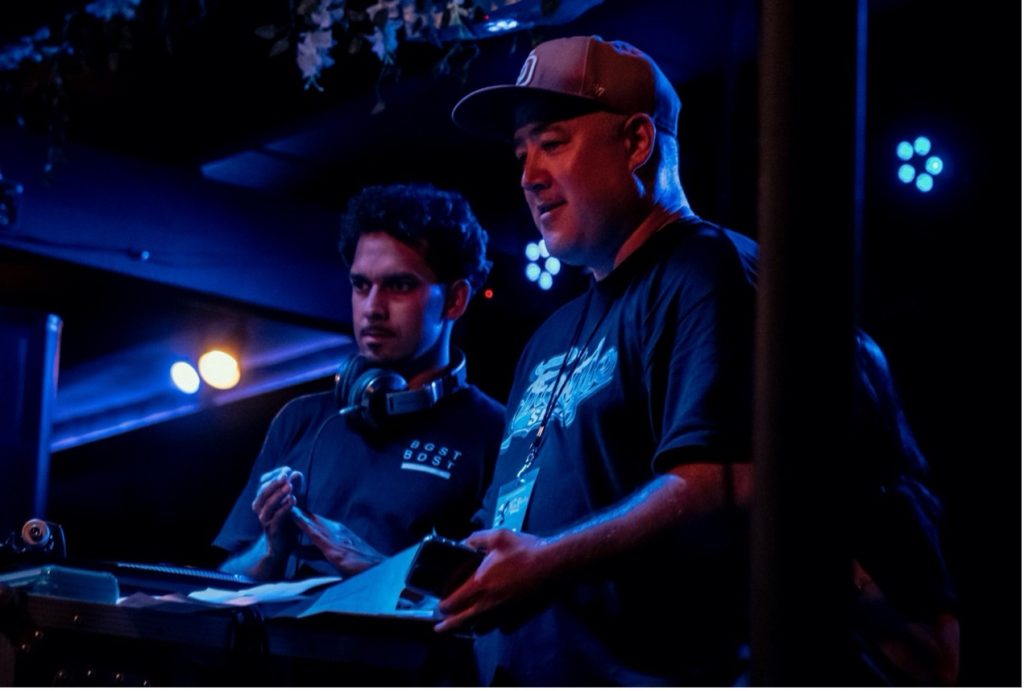 DJ Felix (left) and CrosOne—the person behind the scenes at the Freestyle Session since its inception. Thank you, Cros and the team @shaolinproductions for bringing us all together again!
Photo credit: @unlucky.rabbits
The Contributor:
Born and raised in Kraków, Poland, Basia Krupa earned her first Master's Degree in Education and Culture in her native country. She then moved to Chicago where she started dancing and pursuing her second graduate degree in Linguistics. It was during these studies when she joined a hip-hop dance company and began writing about breaking. These interests culminated in completing a master's thesis combining research on breaking conducted in Chicago and South Korea. Upon graduation, Basia moved to China where she continued her involvement with the local dance communities and taught English at a local university for two years. More recently, she has taken on Brazilian samba and proudly paraded in the Rio de Janeiro 2016 Carnival. She is currently dividing most of her time teaching international students at Illinois Institute of Technology in Chicago and writing a proposal for her first upcoming book titled "Breakin' and Becoming".  
She can be contacted via IG@breakin_andbecoming
Like this page? Share it with your friends.