Another Successful National Collegiate DanceSport Championships
Kevin Booth and Genova Morel working on their American Smooth lines
Steven Krizo and Sophie Bowman Perform a Gold Latin Jive
Each year, USA Dance is thrilled to have the opportunity to host a capstone event for college dancers in the National Collegiate DanceSport Championships (NCDC). The beginning of the outbreak in 2020 forced us to cancel our event, and we knew we had to rise to meet the challenge of serving college students in 2021. Taking the successes of our first virtual competition, the Digital Collegiate DanceSport Challenge, we were able to serve the college students still dancing and help them keep moving forward.
Our virtual championships leveraged a location-independent video entry competition — where dancers could compete when it best suited their schedule, from anywhere in the world! For NCDC, participants were given a list of music and a timeframe to record and submit their videos online. After submitting their videos, the dancing was scored from 0-10 by a panel of USA Dance judges, and final scores were released to the dancers on our website. Recording remotely, combined with solo-proficiency options, ensured that we could keep people safe and dancing.
Gabriel Bury and Lindsey Wilson perform Novice Quickstep in COVID-19
In addition to 0-10 scores, finalists and champions received a neat award certificate signifying their success.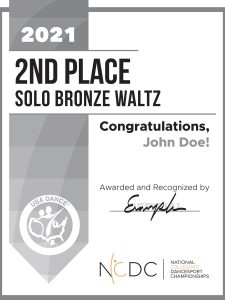 We designed these certificates so competitors could print them out and hang them, or post them on social media if they so choose.  Competitors were also given the opportunity to receive 3-5 sentence critiques on videos of their choice from judges of their choice. This would help them understand what went well and what didn't to keep improving. Thanks to the support of an anonymous donor, every competitor received a free critique of their choice, and many competitors purchased additional critiques to learn even more about how to move forward.
The generosity of others also meant that competitors in the top five of each event also received $10 of scholarship.  We're extremely grateful to the dance community for stepping up and providing this support.
Erin Wrobel and Faith Womack Dancing a Silver International Waltz
As much as competitors enjoyed the format and judges enjoyed judging in their pajamas, we're thrilled to look to 2022 and a return to in-person competitions. We look forward to seeing many of the bright champions when they participate in-person, and are excited to see how they've grown!
NCDC 2021 Top 16 Schools Overall
University of Minnesota – Twin Cities
Ballroom Dance Club at Georgia Tech
Purdue Latin and Ballroom Dance Team
Bemidji State Ballroom
Stony Brook Ballroom Dance Team
University of Alabama Collegiate Ballroom Competition Team
Mizzou Ballroom Dance Club
Carleton College
Carnegie Mellon Ballroom Dance Club
Oregon State University
Brown Ballroom Dance Team
North Carolina State University
University of Houston
Syracuse University Ballroom & Swing Club
Stanford University
Utah State University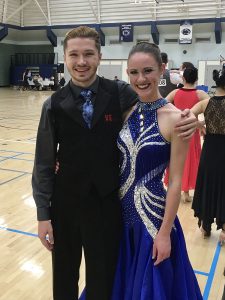 McKenzie van der Hagen and Matias Jonsson are Collegiate DanceSport Athletes at Carnegie Mellon, a private research university based in Pittsburgh, Pennsylvania. American Dancer caught up with this young couple to learn more about them.
When did you start dancing?
McKenzie:  I started dancing as a Freshman at the University of Minnesota. I didn't know it at that time, but throughout the last eight years ballroom would become one of the most influential drivers of my life. Throughout college it gave me a family and some of my fondest memories. I will never forget the Friday team practices. I was so intimidated by them that I almost didn't join the team at all. Now they are some of my favorite memories of doing drills, dancing away all the stress of school, and connecting with some of my closest lifelong friends. By the end of college, I was dancing nearly every day of the week, and I always wanted more. Naturally, after graduating I continued to dance in any way I could, even if that meant flying across the country to practice with my collegiate partner again. When I decided to return to grad school, a strong ballroom team went straight to the top of my priority list. I am now pursuing a Ph.D. at Carnegie Mellon University and dancing consistently once again. Well, I was until Covid hit.
Matias: The reasons why I dance have changed since I was a beginner. When I was a beginner my freshman year of college, I thought that the veteran dancers in our club were so cool and danced so well and wanted to learn to dance like that. Over time, I developed more lasting reasons to dance, like competitiveness and hunger for knowledge.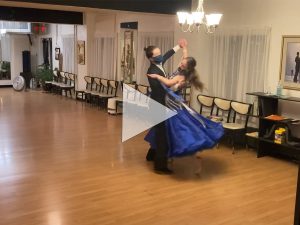 How has the COVID Pandemic affected you and your team?
McKenzie: Like many schools, the pandemic has taken a hard hit at the CMU ballroom team. My partner and I have been fortunate to continue going to lessons and compete at Collegiate Nationals, but practice has been difficult with so many campus restrictions.
Why do you dance?
Matias: I find it fascinating to dive deeper and deeper into the world of dance, both from a technique perspective and from an interpersonal perspective, as there are so many layers to the onion in both regards. DanceSport has given me my best friendships and some of my fondest memories, and I am so grateful to have discovered it. It's genuinely enjoyable and intellectually and physically taxing, and the skills I have learned have made me very confident in just about any social dance setting, even if my ballroom posture makes me stand out like a sore thumb 
What's in the future of the Carnegie Mellon Ballroom Dance Team?
McKenzie: As president and captain of next year's team, we are so hopeful for what the future can bring. Personally, I am excited to rebuild a stronger team than ever and give back all of the great things that ballroom has given to me. I look forward to the unity of those weekly team practices, the electricity of competitions, and the comradery of everyone who makes those events so meaningful.
Like this page? Share it with your friends.