Virtual High Desert Dance Classic "Pivots" into 2021 Virtually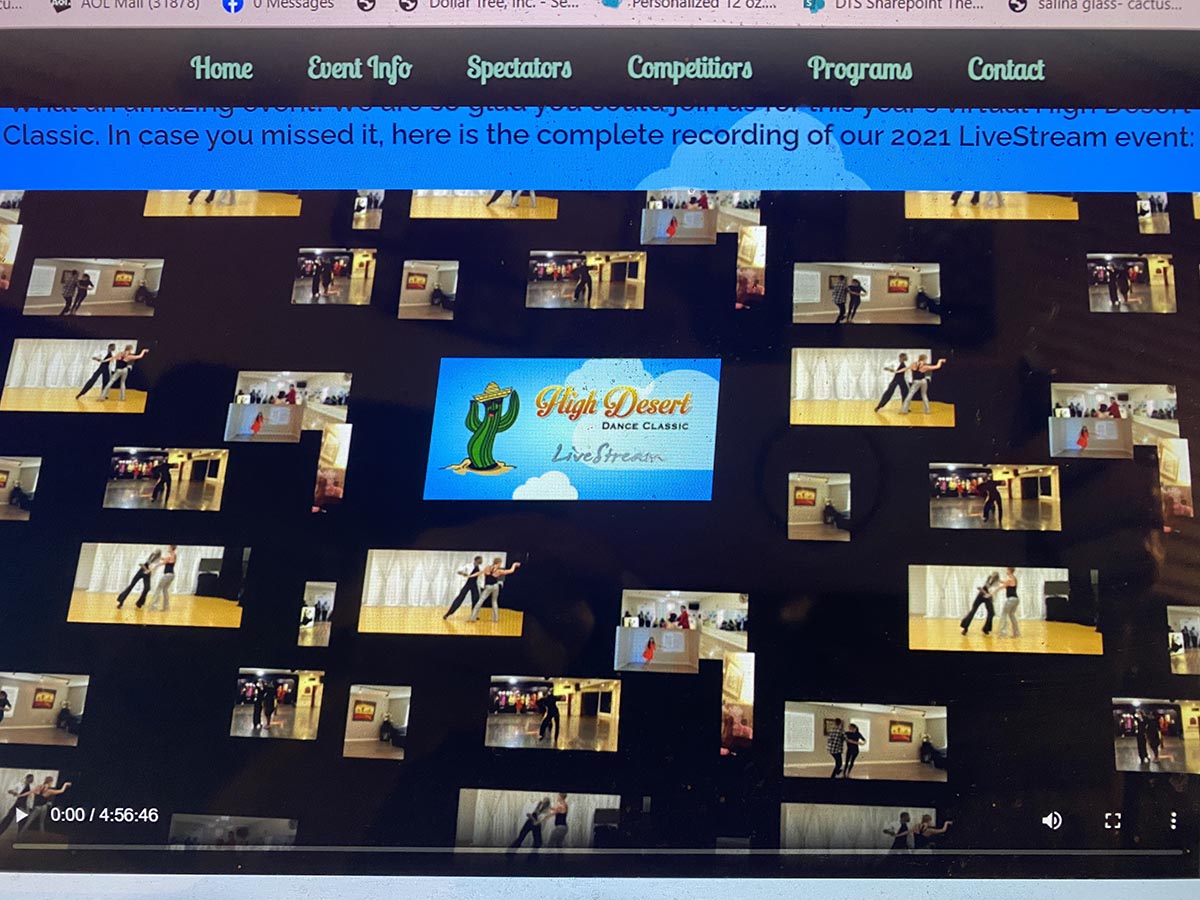 High Desert Classic Web page
"We did it!!!" said Lisa Sandoval. The High Desert Dance Classic was successfully held on Saturday, March 13. It was the event's 16th year, as they had to cancel in 2020 due to COVID-19. However, the USA Dance Antelope Valley Chapter (California) decided to "pivot" and not "check" in 2021 — They ran it virtually!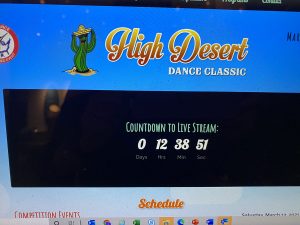 The mission was to provide an online event that was fun, interactive, engaging, and free to spectate. The organizers did not have access to an abundance of school program kids (grades 4-8), as schools across the country remained closed. They did, however, have access to Dance Force Youth Ballroom Dance Program high school kids, and expanded by connecting with high school and college students from Utah, Florida, California, and Arizona.
The Virtual High Desert Dance Classic, which ran from 9 a.m. to 3:45 p.m. PST on March 13, offered continuous interaction through an online chat feature and awarded prizes throughout the event. There were special performances by high school singer Hailey Jeanette and West Coast Swing professionals Nicole and Thibault Ramirez. The event was rounded out with an upbeat Hip Hop performance by the Wheelchair Organization of San Diego, a Quickstep high-energy performance by Jonathan Atkinson and Lorena Bravo, and an encore showing of the "Toilet Paper" routine by Nicholas Cotton and Maria Hanson.
Intoduction to the LiveStream created by Jonathan Atkinson
The dancing was pre-recorded and uploaded; categories included: Dance Force Youth Ballroom (grades 9-12), High School (grades 9-12), Open Ballroom and Latin, Fun Dances (Hustle, Salsa, and Bachata), West Coast Swing (Newcomer-Champs), and Cabaret (Under 21, Adult, and Pro-Am). The judging panel officiated during the weekend of February 27-28. 
The top three couples in each division won prizes, which included over 20 passes to dance events.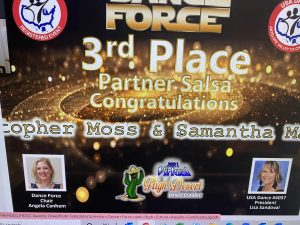 The winners of the High School Division and Junior events received 30-minute donated private lessons from over 40 United States-based professionals. In addition, organizers were able to offer five online workshops: Michael Kielbasa – Power of Musicality in West Coast Swing, Benji Schwimmer – Jiveadelica, Mark Pablo and Christann Heideman – Mix n MAC (Hip Hop Edition), Teresa Shiry- Foxtrot from your Living Room, and Tashina Beckmann King – Power of Positive Mindset for Dancers.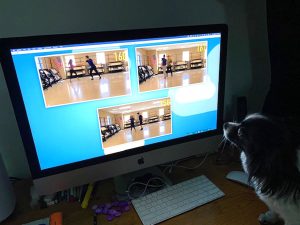 "We are so incredibly proud of our USA Dance Antelope Valley Chapter for believing in a vision and working hard to achieve it," said Lisa. The team collaborated, did fund raising, marketed, edited videos, and ensured that the technology was in place to run a first-class virtual dance event.
"Special thanks to Jonathan Atkinson and Lorena Bravo, for all their dedicated time and hours to make High Desert a reality," she added. "Together, the organizers were able to create something truly unique."
Check out the High Desert LiveStream here. 
Like this page? Share it with your friends.