Kansas City Chiefs – Great football team!
Kansas City Royals – Great baseball team!
Kansas City Blues – Great rugby team!!
Kansas City Barbeque – Great food!
Kansas City Jazz – Great music!
Kansas City Dance Classic – You guessed it!!!!!
The eighth annual Kansas City Dance Classic, Sep. 11-12, in Kansas City, Kansas, is the next USA Dance National Qualifying Event (NQE) and it is destined to be…GREAT! 
This competition, the creation of organizers Matt and Ellen Pansing, first opened its doors as a one-day competition on September 7, 2013. That is when USA Dance was introduced to down-home Midwestern hospitality, as dancers were welcomed to the floor of the lovely Camelot Ballroom. Since that time, the competition has continued to grow in popularity, gaining dancers and spectators, which resulted in the 2018 expansion to a 1 1/2-day event and new venue.
"The idea for Kansas City Dance Classic came to us after many years of social ballroom dancing in the Kansas City area. We really enjoy these USA Dance amateur competitions and believe in the format and idea of them," explained organizer and senior competitor Matt Pansing. "We realized none of them are held within 500 miles…and decided that should change."
"We put in the groundwork as a registered event," added Ellen Pansing, who credits their success to the help of local professionals and a great team of volunteers. "We are excited to be an NQE because it is bringing in more competitors from around the country, and more high-level championship competitors than we have had in the past." 
So, what's different at this event?  "We are also having a set of fun country dances — like country two-step, country waltz, and country cha cha — as we have done in the past," said Matt. "Pretty much, everyone goes all out dressing in country attire with hats and boots. It's different and a lot of fun."
Kansas City is an interesting place to hold a ballroom competition, as the city has a rich musical history and culture. Kansas City, "the Paris of the Plains," gave birth to the blues and is renowned for its fabulous jazz. At one point, the 12th Street and Vine intersection was nationally known for its clubs and parlors, but that area has long been "renewed." Today, those seeking the Kansas City-signature-sounds of jazz giants, jam-sessions, and swinging sophistication might venture to the American Jazz Museum or The Blue Room.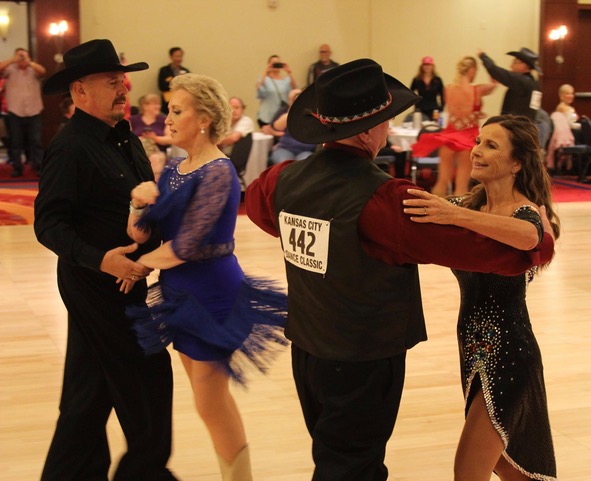 Country dancers will be part of the Kansas City Classic dance experience. Come join the fun!
As for the barbeque. You are just going to have to try it for yourself…after you finish dancing!!! Because, according to 18vinekc.com, "18th and Vine is far more than a street corner. It is an intersection. A place where exceptional music, art, sports, and cuisine collide." 
The Kansas City Dance Classic was cancelled in 2020, due to the pandemic. But it is back in full force this year with a large floor, beautiful venue — Marriott Overland Park, vendors, workshops, and an impressive line-up of judges. As Ellen said, "This will be a fabulous NQE!"
So, let's do a recap:  Chiefs, Royals, Blues, barbeque, jazz, and ballroom!  Don't be the one who misses the Kansas City Dance Classic!
Find the registration information and much more at www.kansascitydanceclassic.com
Like this page? Share it with your friends.