"Of course, there are many other interpretations of 'Dreamcatcher'," admitted USA Dance Oklahoma Chapter President Steve Hamilton. "We all know that long before the lessons, hours of practice and courage to take the floor…first, comes the Dream!" How true that was for the 168 USA DanceSport Athletes who took to the floor, July23-24, in Oklahoma City, Oklahoma for USA Dance's fourth OKC Dreamcatcher DanceSport Championships."
But this year's competition was different from the three previous Oklahoma City-based events orchestrated by well-known and long-standing DanceSport organizers Wayne and Marie Crowder. This year, the event was raised to a National Qualifying Event (NQE) and hosted the 2021 Nationals for the Junior II and Youth Pre-Championship and Championship dancers. The expectations were high, despite challenges magnified by the long pandemic pause. But Wayne and Marie met those challenges head on with smiles on their faces, and the help of the wonderful OKC volunteers. As for the dancers…they danced!
Photo courtesy Rose-Ann Lynch
"Why Oklahoma? We were asked to run a competition here by Steve and Pam Hamilton, great local dance enthusiasts and supporters of competitive dancing," said Wayne Crowder.  "We turned it down a few times, but Steve's persistence and enthusiasm eventually won us over.  His dream is to grow an Amateur Youth competitive program in Oklahoma City, where ballroom dancing (now) mostly exists in the social and Pro-Am format."
Dreamcatcher DanceSport Championships' first application was submitted on March 12, 2015, according to Steve Hamilton — a competitive Senior Standard dancer with his wife Pamela. It specified, "We intend to be most unique in our developing leadership and supporting ballroom dancing in the youth of Central Oklahoma."
Photo courtesy of Alla Zemlyak
Steve admitted that developing young dancers remains the Oklahoma Chapter's primary goal. Every year, 20% of the their budget goes to regional and National USA Dance competition scholarships. "I think, I can safely say that the Crowders felt our dance community, central location, and local scholarship support was a reasonable choice for expansion," he said.  "We certainly knew that a high-quality NQE associated with Wayne and Marie was our best opportunity to increase awareness and…support for our local youth dance program."
"It is important for the local dance lovers to see high-level competitive dancers in action because this is what inspires and promotes the development of competitive dancing," said Wayne. 
Photo courtesy Rose-Ann Lynch
This year, the competition proved to be quite exciting, and the audience was presented with a special treat – Junior II and Youth National Championships. Unfortunately, the number of young dancers was relatively low. One reason, in Wayne's opinion, was the lack of widespread advertisement for the Nationals. However, the pandemic and some deeper underlying issues were likely factors as well. "To increase the number of junior competitors, we need to engage more coaches and studios in USA Dance. Unfortunately, the coaches regularly sending their couples to the USA Dance competitions are few-in-number."
Photo courtesy Rose-Ann Lynch
Although the quantity was lacking, the quality certainly was not. The talent and energy of the young competitors won many hearts over the Dreamcatcher weekend.  Some of their stories were quite remarkable.
Alessandro Lo Giudice and Kristina Mazhar, the newly crowned Youth Standard and 10-Dance Champions, were a relatively new partnership. They had only been dancing together in-person for two weeks prior to attending the Nationals. Alessandro resides in Bulgaria, and the couple had been training and taking lessons through the online format. Since both were still in school and separated by the ocean, dancing together in person on a regular basis presented a real challenge. In the future, Alessandro is planning to spend most of his vacation time in the United States. However, during the school year, the time that the couple will be able to train together in-person will be limited. "We had a great time in Oklahoma!" said Kristina. They were happy with their performance, which was certainly very impressive, especially considering the challenges they had to face.
Photo courtesy Alla Zemlyak
Over the two-day period, young couples competed in Standard, Latin, and 10-Dance with the goal of representing the United States at upcoming World DanceSport Federation (WDSF) Championships. When the dancing was over and the judges' votes were tallied, the USA Dance National Champions and United States Representatives to World Championships were announced:
Junior II Standard: Andrew Pavlyk and Melania Sydor – Nov. 27 in Rishon Le Zion, Israel
Junior II Latin: Henry Reizenson and Elita Rothman – Venue TBD
Junior II 10-Dance: Henry Reizenson and Elita Rothman – Dec. 4 in Vilnius, Lithuania
Youth Standard: Alessandro Lo Giudice and Kristina Mazhar – Nov. 13 in Dresden, Germany
Youth Latin: Aidan Shea and Stephanie Micken – Oct. 2, Yerevan, Armenia
Youth 10-Dance: Alessandro Lo Giudice and Kristina Mazhar – Nov. 6 in Sibiu, Romania
Smooth, Rhythm, and 9-Dance National Championships were also offered at the Junior II and Youth levels, with sadly no takers this year. Perhaps these events will be more popular in the future.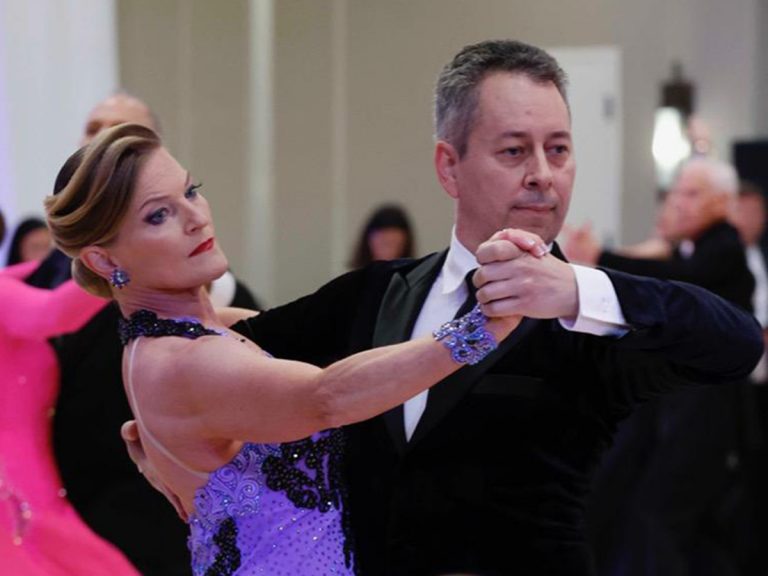 Photo courtesy Edward A. Nockunas
Oklahoma City is a unique location for a USA Dance competition. Most are found up and down the East Coast, with a few on the West Coast. This one stands out, like its sister-NQE in Kansas City, September 11-12, because it is right in the middle of the country. 
"Oklahoma is well known for its Native American and western culture," according to Steve. "Oklahomans are known for their hospitality and friendliness."
Why Dreamcatcher? "It is no coincidence that 'The Dreamcatcher' name is derived from the tradition of Native American dedication to the protection and education of the youth, their generosity to others, and history of excellence in competitive dance and artistic expression," said Steve. "When the name was proposed we sought and received the blessing of the 'Inter-tribal Council of the Five Civilized Tribes' for the use of this symbolic imagery. The 'Dreamcatcher' in Native American or First Peoples Culture is hung in the window or above the bed of the young to protect against evil or bad dreams during the night."
"We went through several name options." said Wayne. "Then Steve suggested Dreamcatcher, and we knew this was it." 
The 2021 Dreamcatcher DanceSport Championships proved to be a dream-come-true for the new Youth and Junior II Nationals Champions, as well as the many dancers of all ages who graced the Oklahoma floor. Congratulations to all who competed, volunteered, worked, and supported. It was a great event!!!
Like this page? Share it with your friends.