Professional in the Spotlight
Sandra Fortuna - Ballet to Ballroom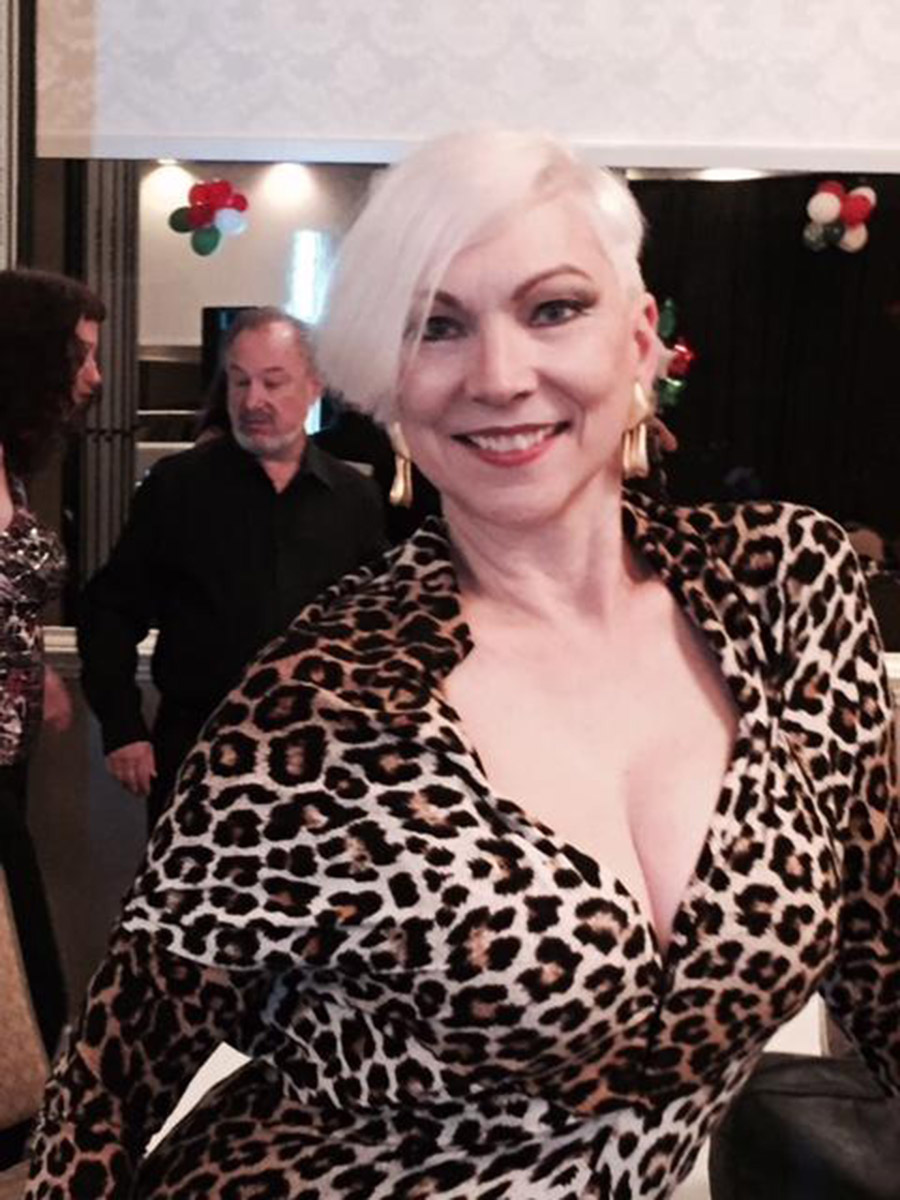 Sandra Fortuna ready to take the floor with her students at a 2018 Disco competition
When 21-year-old Sandra Fortuna was about to step onto the ballroom floor for her first professional competition in 1972, her plan was to wear her "black character shoes with the Mary Jane straps." Her partner, however, greatly objected. "I didn't have any money," she explained. "I got to the competition and this girl…just happened to have her old shoes with her. And they just happened to be orange, which was the color of my dress. And she just happened to wear the same size. And she just happened to loan them to me. So, I had orange Latin shoes for my first competition."
"It was a great thing to learn about ballroom and competition," she noted. "You have to have the right look — the right dress, the right shoes…clean and neat."
Sandra Fortuna, a Philadelphia native, started dancing at the age of nine. "It was all I was about," she said. She used to watch dancing on the television and in the movies and asked for dance lessons as a birthday present. By the time she hit 13, she was a young ballerina, studying under Thomas Cannon in the Academy of Music, and performing with the Philadelphia Opera Company. The traveling productions were huge and included famous singers like Anna Moffo. "At the time, I didn't appreciate the special opportunity and gift presented to me." However, already a card-carrying ballet professional, her talent was obvious and her love for dance manifest.
In her late teens, Fortuna decided she wanted to go to college. She learned that she could write to the the Department of Education to research schools with dance as a major. She applied to Butler University's Jordan College of Music as a classical ballet major and was accepted on academic scholarship. There, she studied and progressed in the world of ballet. Up until her graduation, she had neither noticed nor considered ballroom dancing. Then she happened upon something interesting in Dance Magazine, one of the country's oldest dance publications that was routinely passed around by the Butler University dancers. There, in a tiny article, among the worn pages of a shredded magazine, young Sandra noticed a beautiful picture of Latin Champion Vernon Brock and his beautiful partner Beverly Donahue. Fortuna was totally taken. "I knew ballroom was for me." Unlike ballet, "… it is wrapped around family culture. It is less European and more American. You hear the foxtrots on the radio, and you dance to them."  And the best part is, "…ballroom dancing is for everybody and everybody gets a partner!" 
Before that time, she didn't recognize that ballroom had a structure – figures and steps that needed to be learned. She thought two people got together and made it up as they went along. She only recognized, "It was Heaven to me!" Watching Francois and Giselle Szony, Fred Astaire and his partners, Gene Kelly, and Donald O'Connor, she was struck by the dependency of the partnership and the beautiful lifts, lines, and leans. "I liked that attachment."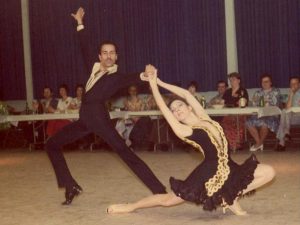 It was also around this time that Fortuna met her dance partner, professional Gene Russo, who, as she put it, "…was the perfect type for me – the perfect build and the perfect rapport!" He suggested that they should compete, and she said, "Who us? OK, let's do it! Do we wear a costume?" She danced her first Latin professional competition with him, and her life was changed. "I haven't seen him (Russo) in 50 years, but if I saw him at a dance, and we decided to have a dance together, I know that it would still be magic."
Sandra also joined a fairly young organization called the United States Amateur Ballroom Dancers Association, USABDA, which was focused on International style competitions, American style competitions, Social dancers, and the Youth and College dancers.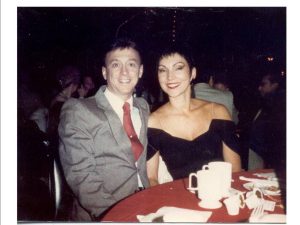 Like so many, dance brought young Sandra to teaching and love. "I had a dream to be a dance teacher. Then I met the man of my dreams, Andy Fortuna, when out dancing during the hustle craze. Not sure how long it took for him to realize he'd been doing a lot of interesting things related to the ballroom dancing world, but I think it was all meant to be. Andy would watch the competitions and finally one day he said, 'I can do that!' Well, he could, and he did. He was my top pro-am partner," she smiled. 'With his amateur partner, he was chosen to represent the United States in the World's Amateur Latin around 1991. He danced great, was tremendously competitive, supported and got involved with what I loved by getting into producing the Latin Jam Series, running a championship competition, and installing very nice dance floors — six different ones over the years."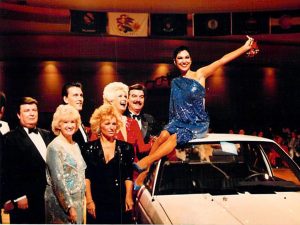 Through the years, and with Andy by her side, Fortuna continued her education and excelled as an instructor. "One year, I won a car," she admitted. It took her three years, in a year-long competition circuit against her male professional counterparts, but in 1989, Sandra won the title of United States Top Teacher, and she and Andy proudly drove the prize home. 
At one point, Sandra thought it was maybe time to stop dancing, but "Andy knew that was not a great idea," she recalled. "He managed to find our first studio exactly one mile from our house. He put in a dancefloor. He had a studio constructed behind our house and put in another dancefloor. He found another nice space in Collingswood and put in another 3200-square-foot floor."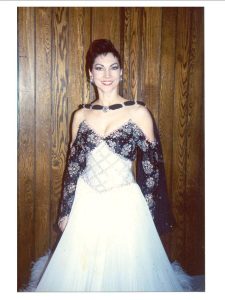 Then came the beautiful Universal Ballroom Dance Center in Philadelphia, Pennsylvania. "I used to go by the building every day, on the way to the previous location," she explained. "When the building appeared to be empty, I asked one of the students how I could find out who owned that empty building. He said to go to the tax office; the record is public. The next day, when I drove by, a big hand-painted sign on plywood was leaning against the sign pole, 'For Sale'.  By lunch, the building was ours, and I have loved it for all these years." Of course, Andy added three more dance floors to make sure it was perfect.
Sandra, who appears to have found the Fountain of Youth, remains a competitive pro-am instructor for her students and a champion for young and disabled dancers. And yet, a few times a year, we can see her taking her post as that elegant and ever-watchful USA Dance judge, who appreciates a quality performance – "…expressive dancers with the music, in it, and of it."
Of course, she stills watches for "the right look — the right dress, the right shoes…clean and neat."
Sandra Fortuna – Professional Education and Credentials
Bachelor of Arts Degree in Dance from Butler University, Indianapolis, IN
WDSF Licensed Adjudicator 
WDSF Certified Teacher
Quintuple Fellow National Association of Dance Teachers of America
Quintuple Fellow United States Terpsichore Association
Successful trainer for professional certifications, Imperial Society of Teachers of Dancing
Examiner Dance Visions Professional Assoc., former 
Co-Chair of USA Dance Invigilation Committee
Member of USA Dance Teacher/Student Commission, former
Secretary US ISTD, former
VP USA Dance Chapter 3012, former
Original Founder American DanceWheels Foundation
Author, First Teachers' Manual for Social Wheelchair Dancing, Wheel Eaze
Like this page? Share it with your friends.